ERNESTO CARLOS ARDITO, a 29 year old filmmaker from Argentina won the 2001 Grant of the Alter-Ciné Foundation for his project entitled "Raymundo". The eight members of the jury underlined the importance of this project which aims at preserving the memory of people's resistance through the eyes and works of a filmmaker. The jury also praised the great cinematographic treatment and the deep human quality of this project.
SUMMARY OF THE PROJECT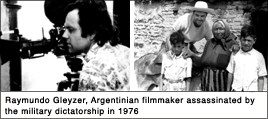 This documentary tells the story of Raymundo Gleyzer, an Argentinian filmmaker " disappeared " (assassinated) by the military dictatorship in 1976. Through Raymundo's life, we follow the story of Latin American revolutionary cinema and the liberation struggles of the 60's and 70's. Raymundo was one of the major architects of the new Latin American Cinema, yet after his " disappearance ", he fell into oblivion. " It is essential ", writes Ernesto Carlos Ardito, " that the new generation rediscovers his life and works which are a source of inspiration today more than ever ".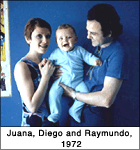 Ernesto Carlos Ardito will direct and produce this feature documentary. It will be co-directed by Virna Molina. Juana Sapire, Raymundo's widow who succeeded in saving most of Raymundo's films, photographs and documents from the dictatorship, is collaborating in the project.